There are several different types of industrial air compressors in the market today. These compressors are classified based on the pressure level, functionality, and other physical properties.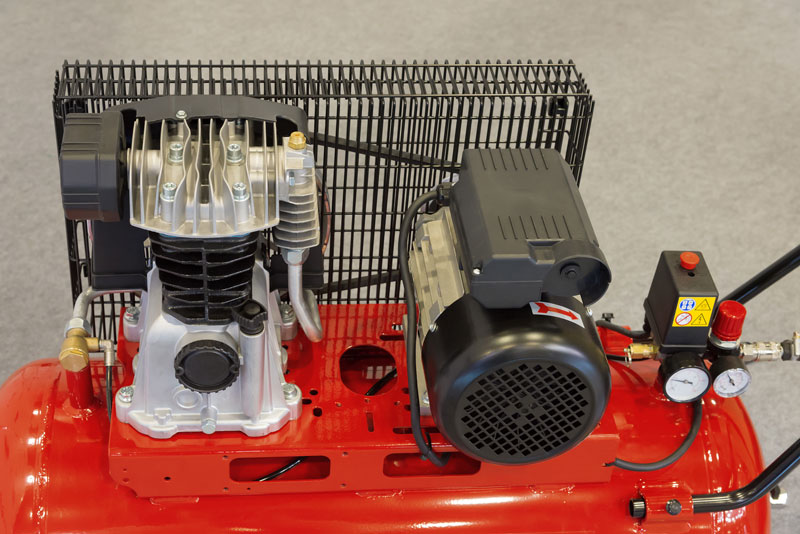 Types of Industrial Air Compressors Functionality
Based on functionality, the common options include:
Reciprocating piston air compressors – These use mechanical pistons to compress air
Rotary vane air compressors – These use blades instead of pistons to compress air
Rotary screw air compressors – These use screws to compress the air.
Lubrication Method
Industrial air compressors are also differentiated based on the lubrication methodology. Air compression generates a lot of heat (exothermic process). So the lubricant used also aids with cooling. Depending on the application, air compressor manufacturers provide different lubricating technologies, including:
Oil-lubrication – These compressors use oil and oil-based substrates for lubrication. Splash compressors are designed to allow the rod-like component to dip in an oil bath and splash the oil onto the bearings. They are very popular for industrial applications.
Oil-free technology – These compressors use non-oil based materials such as air and dry carbon to produce the cooling effect. Their bearings are soaked in oil permanently to run smoothly. But without oil to facilitate heat dissipation, oil-free compressors are used for light work that does not generate a lot of heat.
Pressure-lubricated – These compressors also use oil for cooling and lubrication, but rather than splashing the oil to the bearings, a pump delivers the oil to all the parts of the compressor that need lubrication.
Drive Mechanism
Most industrial air compressors are belt driven because of the huge amount of power needed to deliver volumes of compressed air without overheating the engine. Smaller air compressors are direct-driven or shaft-driven. They are small, handy, and easy to maintain, though they can't meet the compressed air needs of large facilities.
Choosing an Industrial Air Compressor
When looking to buy an industrial air compressor, it is best to choose an oil-lubricated one, with enough power and a good pulley system to provide the needed volumes of compressed air. Contact Q Air-California to find the right type and size for your specific applications.